The biggest battle in cricket is all set to start between Australia and England and here is Ashes 2017 prediction with complete analysis. You will find out who will be the probable winner.
Cricket is the most popular sport of India played at national and international level. It is liked and passionately watched by all the age groups.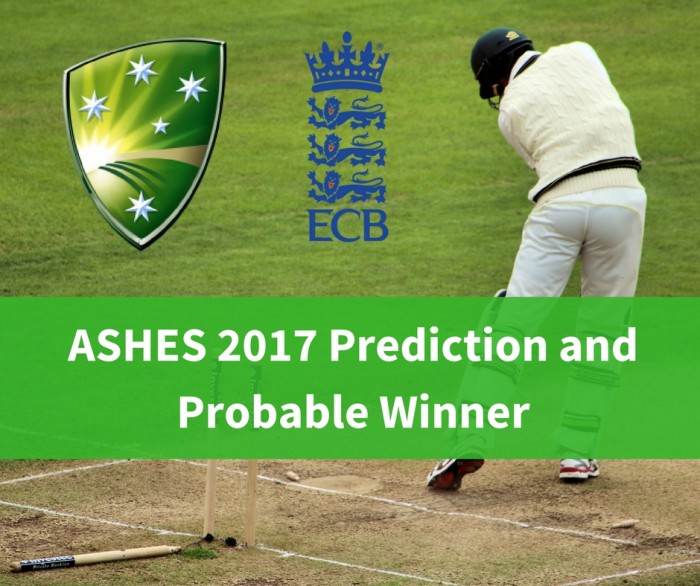 The ashes is the most popular test series between Australia and England. The name ashes was also a result of a news report about the win of Australia over England in 1882 at the oval.
Ashes 2017 Probable Winner
It is a game played with a bat and a ball with a common aim of winning by scoring maximum runs. There are two teams each having 11 players.
Later in the 19th and 20th century, the game spread to countries of the British Empire and consequently became popular in England, Australia, India, Pakistan, Sri Lanka, Bangladesh, New Zealand, West Indies and many other countries.
Cricket is played in various formats ranging from T20 played for over a few hours with each team playing 20 overs wearing club or team colours to Test matches played over for five days with unlimited overs (normally 90 overs a day) and with each team playing two innings. Besides these formats, one-day Internationals are also played within teams with each team playing 50 overs.
This form is much shorter than the existing forms of cricket and is cherished by the viewers widespread. T20 had raised the bar in term of fitness levels of all the players irrespective of the role they play in the team.
ASHES 2017 Prediction
You can read all other Astrological predictions published regularly on our blog. Don't forget to like us on Facebook.
| | |
| --- | --- |
| | ASHES 2017 |
| DATE | WINNER |
| 23-Nov | AUS |
| 2-Dec | DRAW |
| 14-Dec | ENG |
| 26-Dec | AUS |
| 4-Jan | AUS |
Ashes 2017 Winner Prediction: Australia may be the winner of this Ashes series in 2017.
You can read all other Astrological predictions published regularly on our blog.
For Astrology consultation Call करें :  8882540540
To stay updated with every new change in Astrology, like our Facebook page : Astrologer on Facebook